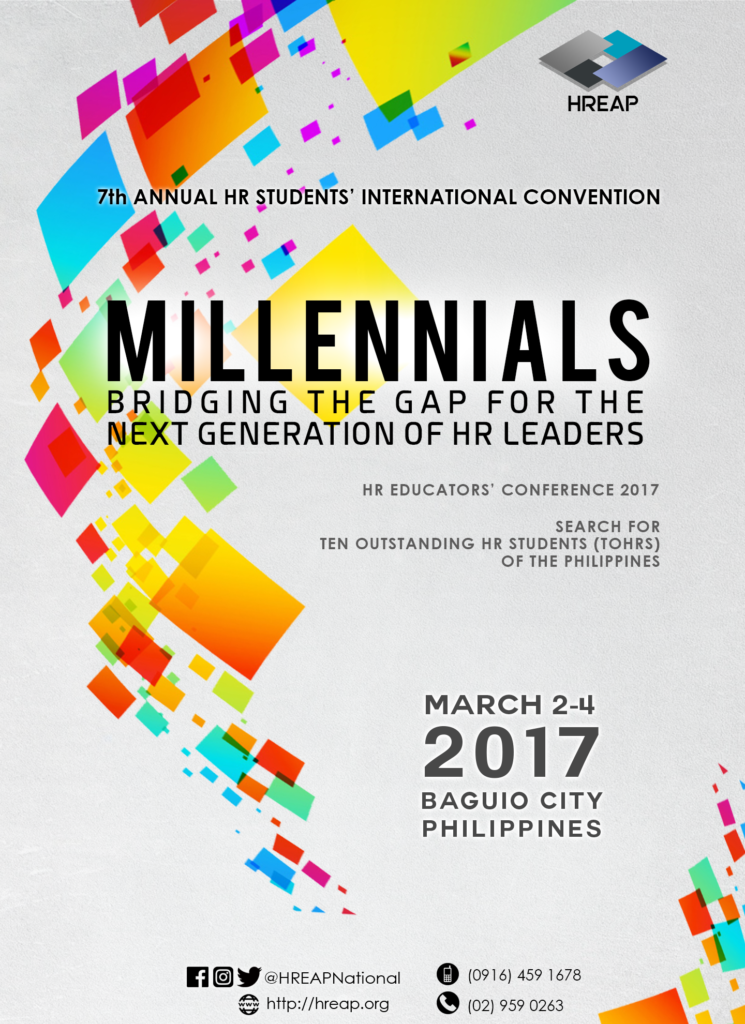 THEME: "MILLENNIALS: Bridging the Gap for the Next Generation of HR Leaders"
March 02-04, 2017 at the Venus Parkview Hotel, Baguio City
The Annual Human Resource Students Convention is an event organized by the Human Resource Educators' Association of the Philippines (HREAP) Inc. It aims to synergize the forefront trends in human resources. Thus, future HR leaders of ASEAN will have a grasp of possible challenges they could face as professionals. The convention equip participants with the skills on how to resolve these issues.
Now on its seventh year, the Annual HR Students' International Convention and the HR Educators' Conference bear the theme "MILLENIALS: Bridging the Gap for the Next Generation of HR Leaders." This underscores the importance of millennials in the HR industry. As future HR leaders, they must fully understand current and impending changes in the landscape to adapt the fast changing field of human resources and for the older generation to understand them as well.
Contrary to the common perception about millennials, they actually value community and family, and they are the most creative and passionate personnel. An increasingly diverse millennial workforce carries several promises for the workplace.
With this convention, our ultimate goal is to seal this perceived gap and show future HR leaders where they fit in the picture. By placing human resources in a familiar context to millennials, they will gain appreciation and will bridge the gap.
Hence, next generation of human resource leaders must go back to the basics of HR, how and when to adapt themselves to the workplace, and think that diversity and global business apply to them. More than anything else, they need to foster ethical behavior at all times.
The world will change and so HR will change. Regardless of the advantages in technology, people is indispensable and will remain critical to work. HR professionals shall ensure people are happy, safe, and productive and has work-life balance.
HR cannot afford to become complacent. HR professionals have a vital role to play in balancing the interest of the employees and the interest of the management.